$200 Off Installation!
Call now to see how you can save up to $200 off installation of your new Culligan Water system.  Family owned serving the Salisbury and Dover area.
Limited time offer. Dealer participation may vary.
What's In Your Water?
Get a FREE Water Test!
Why Culligan?
No third-party installation. No big box retailers. Full-Service high-quality water
Customized to fit YOUR water needs. Your neighbor's home, your parents' home across town — their home water situation may be very different from yours. Culligan works for your tap, your family, your home
Security: Limited 20 year warranty, No shipping damage worries, no restocking fees!
The Proof
Why Do Delmarva
Homeowners LOVE Us?
S.K., Dover
Eric came to check my water conditioner the beginning of this year and I was so happy with the service he provided that I requested him to service my reverse osmosis system, which he did today. I will request him going forward, too.
A.T., Salisbury
The professionalism of the service technician who explained all that was completed. Plus he was friendly and personable. He also found an issue with the system before it presented a problem. Outstanding work!
S.A., Dover
Serviceman was very knowledgeable about the equipment, its settings, filter system, and overall Culligan products. He showed up within the pre-arranged time and was out of here in 30 minutes and efficiently.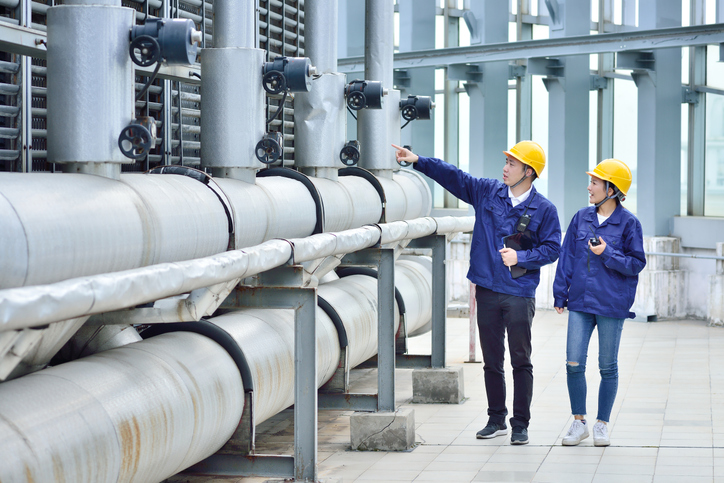 Commercial & Industrial
Are You Losing Operational Costs Because Of Poor Water Quality or Treatment Equipment?
Culligan Delmarva C&I has boots on the ground everywhere for local service. We provide quick service – from install to maintenance, reducing downtime and ensuring efficiency.
Deionization
Industrial Softening
Large Scale Filtration/RO
Pre-Treatment
Storage/Distribution
Reclamation/Re-Use
What Are The Best Water Treatment Solutions For The Delmarva?
With this combination of water resources, Delmarva water quality often faces our share of water filtration and treatment issues:
Surface water, like rivers and snow melt, absorb contaminants that can be harmful for consumption as well as annoying around the home. Most of these contaminants include naturally occurring bio materials and minerals. This means water quality can worsen seasonally when warming temperatures contribute to algal blooms, or heighten water sensitivity to microorganism growth.
Ground water presents its own treatment challenges and filtration issues, so Delmarva residents with primarily ground water service may see different water problems than those using water from Delmarva's surface water sources. Most often, these manifest as hard water problems which cause buildup on faucets and fixtures, and can be hard on appliances and plumbing.
Water is not only one of life's necessities, but it is the key to a healthy life and a happy home. Culligan of the Delmarva is here to help make sure your water is safe for you and your family, no matter what.
With a wide array of products including whole home water filters, water softeners, and drinking water solutions; it is easier than ever to bring safe, great tasting, high quality water to your home.
Depending on where you live in the greater Delmarva or other area, you may have water that comes from lakes and rivers. The contaminants sometimes found in these water systems can be the source of problematic water concerns. Since they are surface water sources, they tend to be more easily susceptible to contamination by nature. Combining those contaminants with aging plumbing and infrastructure can intensify your water problems.
Water Treatment Solutions Near the Delmarva Peninsula
Whether you're in Salisbury, MD., Dover, DE., or New Oxford, PA, Sharp Water can help you get the best water your area has to offer. Sharp Water has been owned and operated by the same family, meaning that you can count on quality and consistency in your Culligan service. Because of our experience in the water filtration business, along with first-hand knowledge of local water problems, we will find the best solution for your water and budget.